Plan Ahead
Midi~Kuper allows you to plan ahead for your performance so your gear automatically changes to your desire as you step from song to song. But if you need to make last-minute changes that's no problem at all. You can rearrange your entire performance in a matter of seconds.
Once you have designed Scenes that define the synths and patches you are using to get a certain sound or collection of sounds, and you have told Midi~Kuper how to layer and split these sounds into your keyboards, you can assign these setups to your songs. This way, every time you play a certain song you will be using the same exact setup, with the same volume and pan settings every time consistently. At the same time, you can share these scenes or setups between songs so that common sounds you use can be called up in multiple places.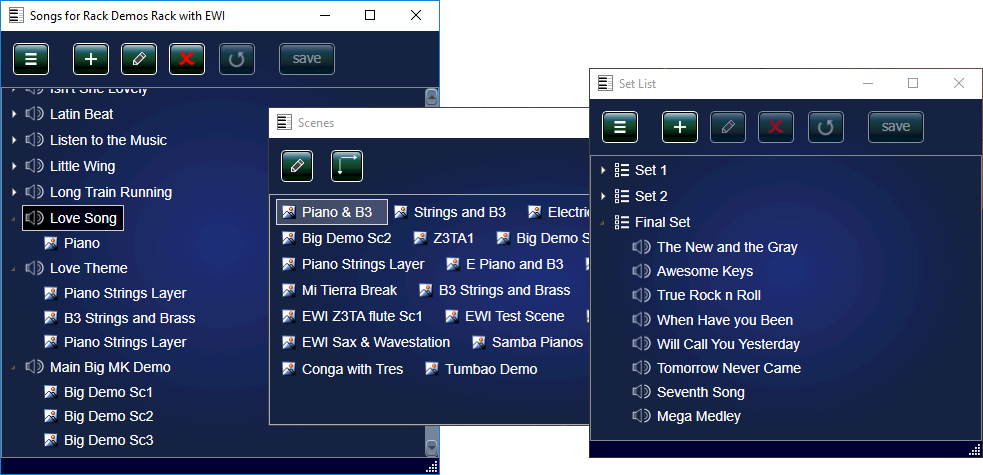 But that's not all. Now you can arrange your songs into sets. Then just smoothly step through your performance as if you had a crew of 20 managing the setup on your equipment. What if the crowd is different than you expected? No problem. You can just drag the songs around and rearrange them in your sets as necessary in a matter of seconds!
"That'll confuse the band" you say... Not a problem. Midi~Kuper has individual windows that can be positioned at will on any available monitor so that all your band can see what the next song is, and what its tempo should be.

Try Midi~Kuper free for 30 days!